Isn't she pretty ?
She was really not in the mood to have her picture taken on this day. You know how hard and how demanding it is being so very beautiful.


She is called 'Ms.Fatty' or 'Little Fatty' although she was named 'Marnie'.

She is an English Bulldog, she is 9 years old, and weighs about 50 pounds.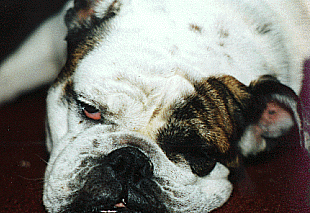 Just trying to get some beauty sleeep!!

She loves sleeping and mooching. Whenever she gets a special treat, she likes to run and hide in my room with it. My bed is on the floor, so she can jump up on it and get comfy to eat her treat. When I get into bed at night I have to shake the crumbs off. One night I found a potato in my bed!! She must have found it on the floor in the kitchen. I don't know what she thought she was going to do with that!

She is very bossy and demanding. She huffs and puffs to get attention, or when she is mad. When she is in the yard she barks at people, then she kicks dirt with her back legs like she is all big and mean.

But she really is very sweet, and lovable.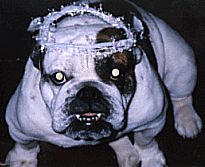 Just a little angel!







She loves 'Mom-mom and Pop-pop', and she loves to
visit them. (maybe because Mom-mom always gives
her a cookie!) They live behind us. All you have
to do is say 'Mom-mom Pop-pop' and she gets excited
and runs to the door. You open the back door and
she almost flies across the yard to their house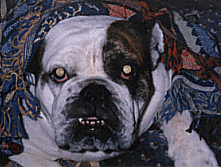 I look like an Angel, but I feel devilish!